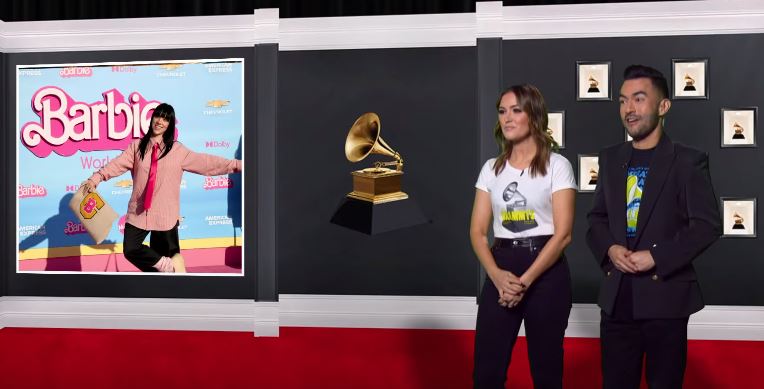 Grammy 2024: confira os indicados das principais categorias
13 de novembro de 2023
A cantora SZA foi a artista com o maior número de indicações ao Grammy 2024, com nove no total. O anúncio da lista completa, dominada por mulheres nas categorias principais, foi feito nesta sexta-feira (10) pela Academia de Gravação americana.
A maior premiação da música dos Estados Unidos acontece no dia 4 de fevereiro de 2024, em Los Angeles. Dentro de suas nove indicações, SZA concorre nas três das categorias principais: álbum do ano ("SOS"), gravação do ano ("Kill Bill") e canção do ano ("Kill Bill").
Ivan Lins aparece como um dos indicados na categoria melhor ábum de jazz latino com o disco "My Heart Speaks", uma parceria com a Tbilisi Symphony Orchestra.
na categoria melhor álbum de ROCK, tem alguns nomes bem conhecidos, com But Here We Are" do Foo Fighters, "72 Seasons" do Metallica e "In Times New Roman…", Queens of the Stone Age. Confira todas as categoria de rock no final da materia.
Veja abaixo os indicados das principais categorias (e a lista completa aqui):
Gravação do ano
"Worship", Jon Batiste
"Not Strong Enough", boygenius
"Flowers", Miley Cyrus
"What Was I Made For?" do filme "Barbie", Billie Eilish
"On My Mama", Victoria Monét
"Vampire", Olivia Rodrigo
"Anti-Hero", Taylor Swift
"Kill Bill", SZA
Música do ano
"A&W", Lana Del Rey
"Anti-Hero", Taylor Swift
"Butterfly", Jon Batiste
"Dance the Night" (De "Barbie: O Álbum"), Dua Lipa)
"Flowers", Miley Cyrus
"Kill Bill", SZA
"Vampire", Olivia Rodrigo
"What Was I Made For?" de "Barbie", Billie Eilish
Álbum do ano
"World Music Radio", Jon Batiste
"The Record", boygenius
"Endless Summer Vacation", Miley Cyrus
"Did You Know That There's a Tunnel Under Ocean Blvd", Lana Del Rey
""The Age of Pleasure", Janelle Monáe
"Guts", Olivia Rodrigo
"Midnights", Taylor Swift
"SOS", SZA
Revelação do ano
Gracie Abrams
Fred again..
Ice Spice
Jelly Roll
Coco Jones
Noah Kahan
Victoria Monét
The War and Treaty
Melhor performance solo pop
"Flowers", Miley Cyrus
"Paint the Town Red", Doja Cat
"What Was I Made For", do filme "Barbie", Billie Eilish
"Vampire", Olivia Rodrigo
"Anti-Hero", Taylor Swift
Melhor performance pop solo ou grupo
"Thousand Miles", Miley Cyrus e Brandi Carlile
"Candy Necklace", Lana Del Rey e Jon Batiste
"Never Felt So Alone", Labrinth e Billie Eilish
"Karma", Taylor Swift e Ice Spice
"Ghost in the Machine", SZA e Phoebe Bridgers
Melhor álbum pop vocal
"Chemistry", Kelly Clarkson
"Endless Summer Vacation", Miley Cyrus
"Guts", Olivia Rodrigo
"- (Subtract)", Ed Sheeran
"Midnights", Taylor Swift
Melhor álbum pop vocal tradicional
"To Steve with Love: Liz Callaway Celebrates Sondheim", Liz Callaway
"Pieces of Treasure", Rickie Lee Jones
"Bewitched", Laufey
"Holidays Around the World", Pentatonix
"Only the Strong Survive", Bruce Springsteen
"Sondheim Unplugged (The NYC Sessions), Vol. 3", (Vários artistas)
Melhor gravação dance/eletrônica
"Blackbox Life Recorder 21F", Aphex Twin
"Loading", James Blake
"Higher Than Ever Before", Disclosure
"Strong", Romy e Fred again..
"Rumble", Skrillex, Fred again.. e Flowdan
Melhor álbum dance/eletrônica
"Playing Robots Into Heaven", James Blake
"For That Beautiful Feeling", the Chemical Brothers
"Actual Life 3 (January 1 – September 9 2022)", Fred again..
"Kx5", Kx5
"Quest for Fire", Skrillex
Melhor performance de rap
"The Hillbillies", Baby Keem featuring Kendrick Lamar
"Love Letter", Black Thought
"Rich Flex", Drake & 21 Savage
"Scientists & Engineers", Killer Mike featuring André 3000, Future and Eryn Allen Kane
"Players", Coi Leray
Melhor performance de rap melódico
"Sittin' on Top of the World", Burna Boy featuring 21 Savage
"Attention", Doja Cat
"Spin Bout U", Drake & 21 Savage
"All My Life", Lil Durk e J. Cole
"Low" SZA
Melhor música de rap
"Attention", Doja Cat
"Barbie World" de "Barbie: O Álbum", Nicki Minaj e Ice Spice feat. Aqua
Just Wanna Rock", Lil Uzi Vert
"Rich Flex", Drake & 21 Savage
"Scientists & Engineers," Killer Mike feat André 3000, Future e Eryn Allen Kane
Melhor álbum de rap
"Her Loss", Drake & 21 Savage
"Michael", Killer Mike
"Heroes & Villains", Metro Boomin
"King's Disease III", Nas
"Utopia", Travis Scott
Melhor álbum de pop latino
"La Cuarta Hoja", Pablo Alborán
"Beautiful Humans, Vol. 1", AleMor
"A Ciegas", Paula Arenas
"La Neta", Pedro Capó
"Don Juan", Maluma
"X Mí (Vol. 1)", Gaby Moreno
Melhor álbum de música urbana
"Saturno", Rauw Alejandro
"Mañana Será Bonito", Karol G
"Data", Tainy
Melhor performance de R&B
"Summer Too Hot", Chris Brown
"Back to Love", Robert Glasper feat SiR e Alex Isley
"ICU", Coco Jones
"How Does It Make You Feel", Victoria Monét
"Kill Bill", SZA
Melhor performance de R&B tradicional
"Simple", Babyface featuring Coco Jones
"Lucky", Kenyon Dixon
"Hollywood", Victoria Monét feat Earth, Wind & Fire e Hazel Monét
"Good morning" PJ Morton feat Susan Carol
"Love Language", SZA
Melhor música de R&B
"Angel", Halle
"Back to Love", Robert Glasper feat SiR e Alex Isley
"ICU", Coco Jones
"On My Mama", Victoria Monét
"Snooze", SZA
Melhor álbum de R&B progressivo
"Since I Have a Lover", 6lack
"The Love Album: Off the Grid", Diddy
"Nova", Terrace Martin and James Fauntleroy
"The Age of Pleasure", Janelle Monáe
"SOS", SZA
Melhor álbum de R&B
"Girls Night Out", Babyface
"What I Didn't Tell You (Deluxe)", Coco Jones
"Special Occasion", Emily King
"Jaguar II", Victoria Monét
"Clear 2: Soft Life EP", Summer Walker
Melhor clipe
"I'm Only Sleeping", The Beatles
"In Your Love", Tyler Childers
"What Was I Made For?", Billie Eilish
"Count Me Out", Kendrick Lamar
"Rush", Troye Sivan
Melhor filme musical
"Moonage Daydream", David Bowie
"How I'm Feeling Now", Lewis Capaldi
"Live From Paris, the Big Steppers Tour", Kendrick Lamar
"I Am Everything". Little Richard
"Dear Mama", Tupac Shakur
Melhor performance country solo
"In Your Love", Tyler Childers
"Buried", Brandy Clark
"Fast Car", Luke Combs
"The Last Thing on My Mind", Dolly Parton
"White Horse", Chris Stapleton
Melhor performance country em dupla ou grupo
"High Note", Dierks Bentley feat Billy Strings
"Nobody's Nobody", Brothers Osborne
"I Remember Everything", Zach Bryan feat Kacey Musgraves
"Kissing Your Picture (Is So Cold)", Vince Gill e Paul Franklin
"Save Me", Jelly Roll e Lainey Wilson
"We Don't Fight Anymore", Carly Pearce feat Chris Stapleton
Melhor música de country
"Buried", Brandy Clark
"I Remember Everything", Zach Bryan feat Kacey Musgraves
"In Your Love", Tyler Childers
"Last Night", Morgan Wallen
"White Horse", Chris Stapleton
Melhor álbum de country
"Rolling Up the Welcome Mat", Kelsea Ballerini
"Brothers Osborne", Brothers Osborne
"Zach Bryan", Zach Bryan
"Rustin' in the Rain", Tyler Childers
"Bell Bottom Country", Lainey Wilson
Melhor álbum de jazz latino
"Quietude" Eliane Elias
"My Heart Speaks", Ivan Lins com a Tbilisi Symphony Orchestra
"Vox Humana", Bobby Sanabria Multiverse Big Band
"Cometa", Luciana Souza e Trio Corrente
"El Arte Del Bolero Vol. 2", Miguel Zenón e Luis Perdomo
Melhor álbum latino de rock ou alternativo
"Martínez" Cabra
"Leche De Tigre", Diamante Eléctrico
"Vida Cotidiana", Juanes
"De Todas Las Flores", Natalia Lafourcade
"EADDA9223", Fito Paez
Melhor álbum folk
"Traveling Wildfire", Dom Flemons
"I Only See the Moon", the Milk Carton Kids
"Joni Mitchell at Newport (Live)", Joni Mitchell
"Celebrants", Nickel Creek
"Jubilee", Old Crow Medicine Show
"Seven Psalms", Paul Simon
"Folkocracy", Rufus Wainwright
Melhor performance de rock
"Sculptures of Anything Goes", Arctic Monkeys
"More Than a Love Song", Black Pumas
"Not Strong Enough", boygenius
"Rescued", Foo Fighters
"Lux Æterna", Metallica
Melhor música de rock
"Angry", The Rolling Stones
"Ballad of a Homeschooled Girl", Olivia Rodrigo
"Emotion Sickness", Queens of the Stone Age
"Not Strong Enough", boygenius
"Rescued", Foo Fighters
Melhor álbum de rock
"But Here We Are", Foo Fighters
"Starcatcher", Greta Van Fleet
"72 Seasons", Metallica
"This Is Why", Paramore
"In Times New Roman…", Queens of the Stone Age